Closed System Chemistry Analysis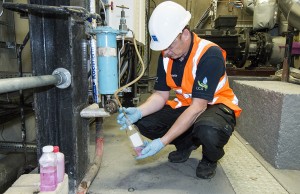 Inadequate flushing on installation or defective treatment of water in closed systems promotes scale, corrosion and bacterial growth. The build-up of these contaminants blocks up pipes and plates, reducing efficiency and effectiveness and even causing system failure.
We thoroughly check the cleanliness of your closed water system(s) in line with BSRIA's key guidance documents, BG29 and BG50. We offer a chemical analysis completely free of charge. (We can also arrange bacterial sampling and analysis where required.)
We then report back to you on the health of your closed water system. Should it need any adjustment, repair or maintenance work, our expert engineers will happily make recommendations for resolving any issues and help protect your system from unexpected damage and costs.