Chemical Supply, Dosing & Control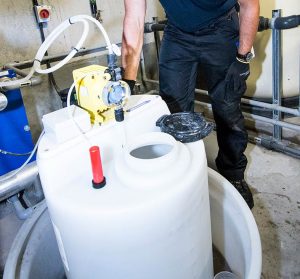 We supply an extensive range of the most efficient and cost-effective water treatment chemicals on the market to help keep your water systems safe and hygienic. We also supply automated dosing units that keep your water system protected with a controlled, accurate and consistent dose.
Our portfolio of top quality products includes:
domestic water system products such as Shower Head Plus (cleans, descales and disinfects water systems) and hydrogen peroxide-based disinfectants (for pre-commission disinfection or legionella control).
nitrite- and molybdate-based scale and corrosion inhibitors for closed heating and chilled water systems
biocides for bacterial control in closed water systems.