Posted September 18, 2017
|
Blog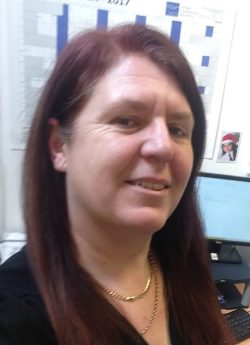 Meet Jo Malone: Making our business tick
Everybody knows that the admin staff within most businesses are the people who really run the show. Meet Jo Malone, an Office Manager at WCS! Not only is she super sharp with administrative responsibilities, she has learned more than a little about what we do.
How long have you worked at Water Compliance Services?
I joined Water Compliance Services in November 2015.
How did you get involved in water compliance and water regulations?
I kind of just fell into it!
My background is working for the Local Authority with 'looked after children' and 'children in need', however after 22 years I decided it was time for a career change but didn't know what I wanted to do.
Martin approached me and asked if I wanted to help out in the office. To be honest, I didn't have a clue about Water Compliance, Water Treatment or Legionella but fortunately for both Martin and myself, I am a quick learner. Most of our clients know me now and often I am the main point of contact.
Clients will come to me directly to discuss any issues, queries or documentation they require and they trust that I will provide them with the information within the time scale. Over the past 20 months I have learned so much and my confidence has rocketed when discussing Water Regulations and treatments with clients or potential clients.
What do you like to do in your own time?
I have a 13 year old daughter who I spend most of my time with outside work. We love to go walking and hill climbing. In September I am attempting a 26.9 mile walk over the National Peak District to raise money for Macmillan Cancer Support. Unfortunately my daughter isn't old enough to do the walk but she has done lots of training with me. We can walk up to 15 miles every weekend.
If you could go for dinner with any person living or dead, who would it be and why?
I would love to go for dinner with Jeff Hordley, aka Cain Dingle from Emmerdale. I've met him on a couple of occasions and he's a really lovely gent – a bit of a lovable rogue too.
If you could write your own epitaph what would it be?
Jo lived, loved and enjoyed life.
There's more to compliance than Legionella
Our staff are all trained in all aspects of water compliance. They can identify issues and carry out remedial work to ensure your water system is compliant with regulations and safe from the threat of Legionella, Pseudomonas and other troublesome bacteria.
If you would like more information about water safety and management you can contact Operations Manager, Martin Hillam, at Water Compliance Services, on 0800 1303221 or email info@water-compliance.co.uk.