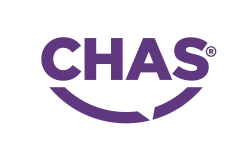 Now CHAS accredited
Yorkshire based compliance specialist, Water Compliance Services, has recently been accredited within the Contractors Health and Safety Scheme (CHAS) for demonstrating compliance with and sound management of current basic health and safety legislation.
This award comes hot on the heels of the firm's recent Alcumus SafeContractor accreditation for "Excellence in Health and Safety in the Workplace" and it is further recognition that Water Compliance Solutions is committed to the highest standards in health and safety.
What's CHAS?
CHAS was created by experienced health and safety professionals 20 years ago to improve health and safety standards across the UK. It is one of the founders of third party accreditation, so is not only a trusted adviser on health and safety compliance but a recognised authority. More than 900 public and private sector organisations and 70000 contractors are registered on the scheme which is recognised throughout the UK.
Nationwide water compliance
Water Compliance Services helps businesses, institutions and individuals meet statutory requirements in providing safely managed water systems for their employees and visitors. The firm has expanded rapidly since its incorporation almost 5 years ago and offers a nationwide service thanks to its team of assessors that operate from numerous sites across the country.
The firm's CHAS accreditation coming so soon after it received its Alcumus SafeContractor certification is another example of its commitment to health and safety standards. This dedication to high standards has been a key factor in establishing a reputation for health and safety expertise in water compliance and regulations. They already have many key contracts with schools, care homes and healthcare facilities and have a responsibility to safeguarding some of the most vulnerable in the country.
Safeguarding against the real risk of Legionella
Martin Hillam, Operations Manager at Water Compliance Services, said:
"Our clients count on us to be as thorough as possible when addressing the very real risk of Legionella in their water supplies. We are committed to meeting the highest standards in health and safety compliance, and are proud to have been awarded the CHAS accreditation which recognises that commitment."
What is Legionella?
Legionella pneumophila and related bacteria can be found in purpose-built water systems such as cooling towers, evaporative condensers, hot and cold water systems and spa pools. In the right conditions, the bacteria can grow which increases the chances of people catching Legionnaires' disease. The disease is contracted when water droplets with a sufficient concentration of the bacteria are inhaled.
Legionnaires' disease is a serious illness and can be life threatening. It is therefore vital to monitor water systems and take the appropriate steps to prevent the bacteria from gaining a strong foothold. Water Compliance Solutions provide expert support in all aspects of Legionella control from Legionella monitoring, assessment and remedial works through to Legionella Awareness Training.
To find out more about how Water Compliance Services can keep your water systems safe and compliant, click on this link or get in touch.