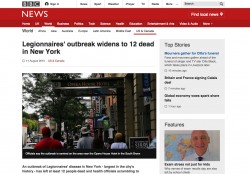 An outbreak of Legionnaires' disease in New York – largest in the city's history – has left at least 12 people dead and health officials scrambling to contain the deadly bacteria.
More than 100 cases have been reported in the South Bronx, one of the city's poorest neighbourhoods.
Officials have traced the legionella bacteria to cooling towers in more than a dozen buildings.
Martin Hillam, Director at Water Compliance Solutions says, "Many water systems are susceptible to the deadly legionella bacteria forming if they aren't properly maintained. The disease is primarily spread through droplets in the air, such as air conditioning systems and the spray from shower heads. To prevent the tragic consequences of the dreadful outbreak in New York from happening it is essential to risk assess and monitor water systems in compliance with government guidelines and legislation."
At Water Compliance Solutions we have been providing a fully integrated legionella service to a range of industries within the public and private sectors for over 10 years.
As an established Water Management and Assessment company we have a team of Professional Engineers that specialise in legionella control that work closely with our clients to guarantee high standards of service and cost effective solutions. With the risks fully assessed, we design a clear monitoring programme for your premises and a simple, practical digital or paper log book that helps you monitor your water system easily and time-efficiently.
To read the full article visit the BBC News website.
---
Water Compliance Solutions provide in-depth risk assessments to ensure that our clients' health & safety and legal requirements are being met. As a safeguard, we then follow up any control, remedial or preventative work that needs to be completed to ensure that legionella outbreaks and prosecution are avoided.
For more information or to arrange a free, no obligation quote call us today on 0800 130 3221, or click here to contact us.